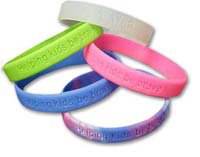 Awareness bracelets are among many popular promotional products for 2006. They're small, simple and made of just a few cents' worth of rubber and plastic. They're also a nationwide fashion craze with a heart.
American bicycle racing superstar Lance Armstrong started the trend in May when his Lance Armstrong Foundation kicked off its "LiveStrong" campaign by selling yellow bracelets to raise funds for cancer research. Since then, the foundation says more than 33 million bands have been sold at $1 apiece.
Now it seems every charitable cause, from disease research to disaster relief, has a bracelet with a signature color. Place your name on awareness bracelets and support a good cause at the same time.