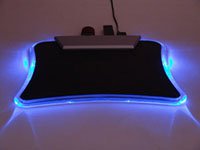 Another interesting high-tech item.. features LED light radiesent from under mouse pad. A USB Hub is also included for added usability. Use it for your home office and/or for traveling.
You can place your company name and logo on a nice size imprint area of 4″ x 1 1/8″.

Yes, we have lots of mousepads to choose from in our computer accessories department for any type of promotion, tradeshow, or event!